1、 Front-end engineering summary
Front-end engineering : It refers to following certain standards and specifications , Improve development efficiency through tools 、 Cost reduction is a means ; Widely concerned and discussed , The reason is : The functional requirements of the front end are continuously improved , Business logic is complex day and night ; From traditional websites 、H5、 Applet ;
1、 Problems in front-end development :
Want to use ES6+ New characteristics , But there's a problem with compatibility
Want to use Less、Sass、PostCSS enhance CSS The programmability of , But the running environment can't directly support
Want to use a modular way to improve the maintainability of the project , However, the operating environment cannot directly support
Before deploying online, you need to manually compress it into code and resource files , The deployment process needs to manually upload code to the server
Multi person collaborative development , We can't unify our code style , From the warehouse pull The quality of the code coming back is not guaranteed
Part of the function development needs to wait for the back-end service interface to complete in advance
2、 The main problems solved by front-end engineering :
Disadvantages of traditional language or grammar
You can't use modularity / Componentization
Repetitive mechanical work
Uniform code style 、 QA :
Rely on back-end service interface support
As a whole, back-end projects
3、 The performance of front-end engineering
The whole point of view : From the creation of the project -》 code -》 preview -》 Submit -〉 Deploy , Each link can improve efficiency through engineering ; say concretely ,
When you create the project , You can use scaffolding tools to automatically help us build the basic structure ; Create project structure and create specific types of files
code : With the help of Engineering tool automation Help us do some : formatting code 、 Check code style 、 compile 、 structure 、 pack
preview / test : In the traditional preview link, I pay attention to Apache's improvement web Basic services , Unable to provide heating update service ; Now you can use :Web Sever,Mock,
Submit : have access to Git Hooks/Lint- staged/ Continuous integration automates the inspection of project quality and style before code submission , Make sure you don't submit problematic code , Solved from the warehouse pull Come down with the problematic code
Deploy : Automatic release ,CI/CD, Avoid the wrong factors of manual operation
4、 Front end engineering performance details
engineering Is not the same as Some tool
The core of engineering : It should be for the overall project Planning and architecture , and Tools Just to help us Implementation planning and architecture A means of ;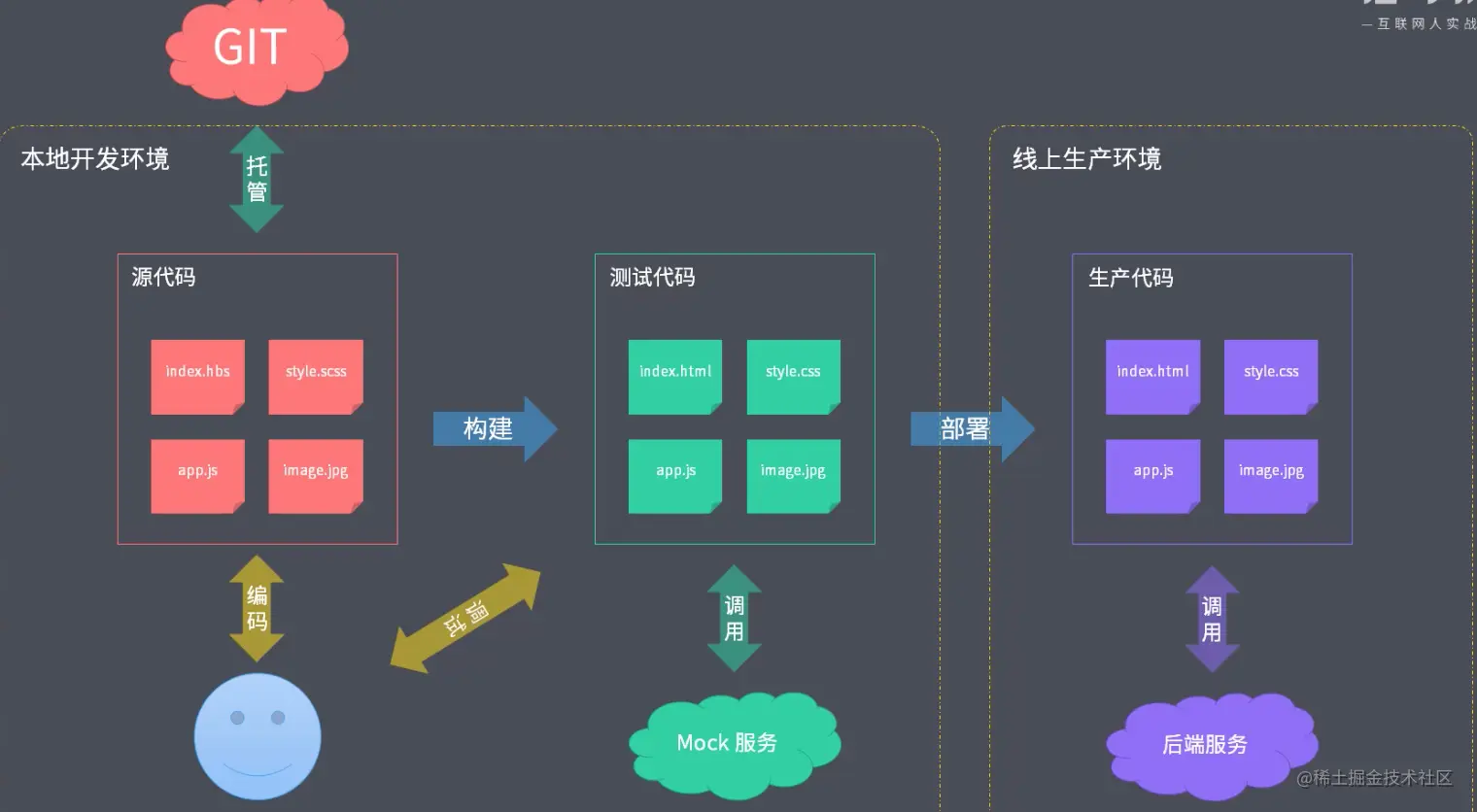 Mature engineering tools :
Items belonging to a specific type ( It's engineering integration ), The official integrated engineering scheme , such as :vue-cli Not only helped us create the project , More agreed vue What is the structure of the project , Some tools are provided : Hot update , Code style checking ;

5、 Implement the of front-end engineering 5 In two dimensions :
Scaffold tool development
Build systems automatically
Modular packaging
Project code normalization
Automated Deployment
2、 The scaffold Tools
1、 The nature of scaffolding
Essential role : A tool for automatically creating a project file structure 、 Provide project specifications and conventions ; The same convention contains :
The same organizational structure
The same development paradigm
The same module dependency
Same tool configuration
The same basic code
summary : The same agreement as above , So when building a new project , There will be A lot of repetitive work Want to do , Scaffolding tools are used to solve such problems ( Complex tools for solving projects ), You can quickly build a specific type of project skeleton through scaffolding tools , Start working based on this skeleton ;
give an example :IDE The process of creating a project It's a scaffolding workflow ;
Front end scaffolds are generally not integrated in one IDE in , Exist as a separate tool ;
2、 Common Scaffolding tools
react -> create-react-app
vue -> vue-cli
angluar ->angluar-cli
These tools are nothing more than Create the corresponding project infrastructure based on the information you provide ; They are It is applicable to the framework projects it serves ; Another category :
With Yeoman Scaffolding tools for representative general projects , They are based on a set of templates , Generate a corresponding project structure , Very flexible 、 Very easy to expand ;
Plop: Used to create specific types of files during project development ;
3、Yeoman Introduce
Definition : The official definition is : Create a modern web Scaffolding tools used ;Yeoman More like A scaffold runs on a platform , We can go through Yeoman Build different types of Generator To create any type of project ; We go through Generator Create your own projects , thus Custom build your own scaffolding ;Yeoman Its advantages are also its disadvantages : In the eyes of many people who focus on framework based development ,Yeoman Too generic, not enough focused , So they prefer to use things like vue-vli This kind of scaffold ;
4、Yeoman Basic use
1、 install Yeoman: yarn global add yo
2、 Install the corresponding Generator, Build different Generator type : For example, use Generator- node,
yarm g add generator-node
3、 Use yarn Set up the project : New project folder , function yo node establish node project , Select the basic information of the project
5、Yeoman And Sub Genaerator
Create a specific type of file , such as :es6, babel, wait , Need this demand , have access to Sub Genaerator,
install :yo node:cli , rewrite package.json file , Add new modules and configurations , Appear one binde To configure :'lib/cli.js'
Use the module as a global : yarn link , You can directly use the module name to execute the project
6、Yeoman Use steps to summarize
1、 Identify your needs
2、 Find the right Generator
3、 Global installation found Generator
4、 adopt yo Run the corresponding Generator
5、 Fill in the options interactively through the command line
6、 Generate the project structure you need
7、 Self defined Generator To create Generator
establish Generator : Namely NPM modular ;
Yeoman Of Generator The name of must be generator-<name>, The module cannot be found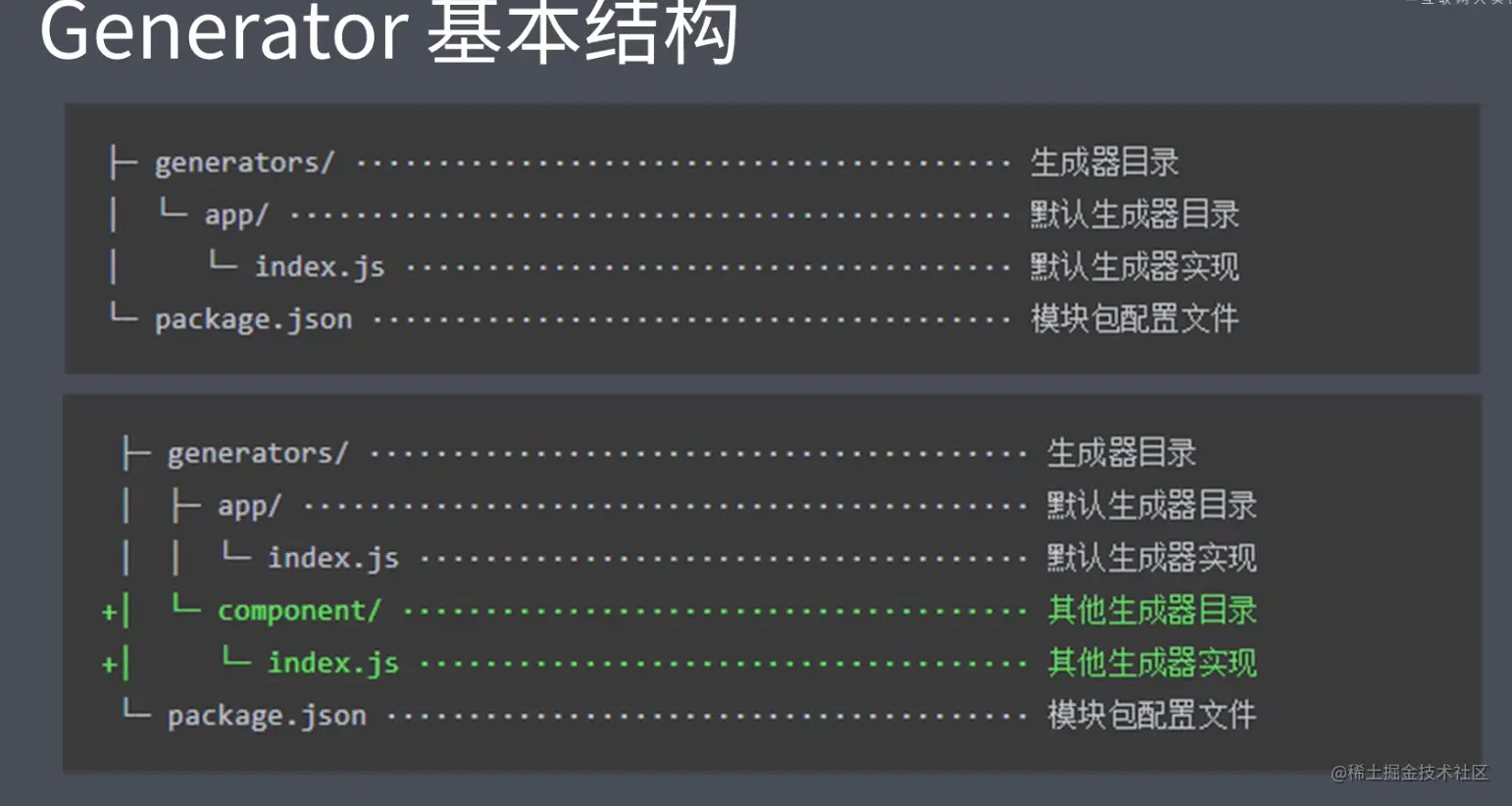 install Generator: yarn add yeoman-generator Module
Create custom Generator Folder : generator->app->index.js, stay index.js Export a relay Yeoman Generator The type of ;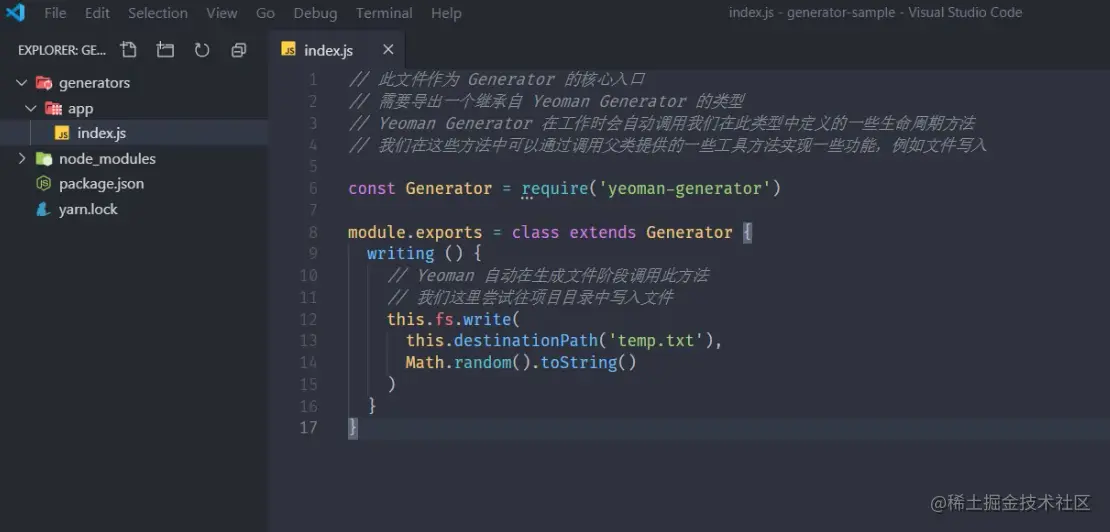 7、 Create files based on modules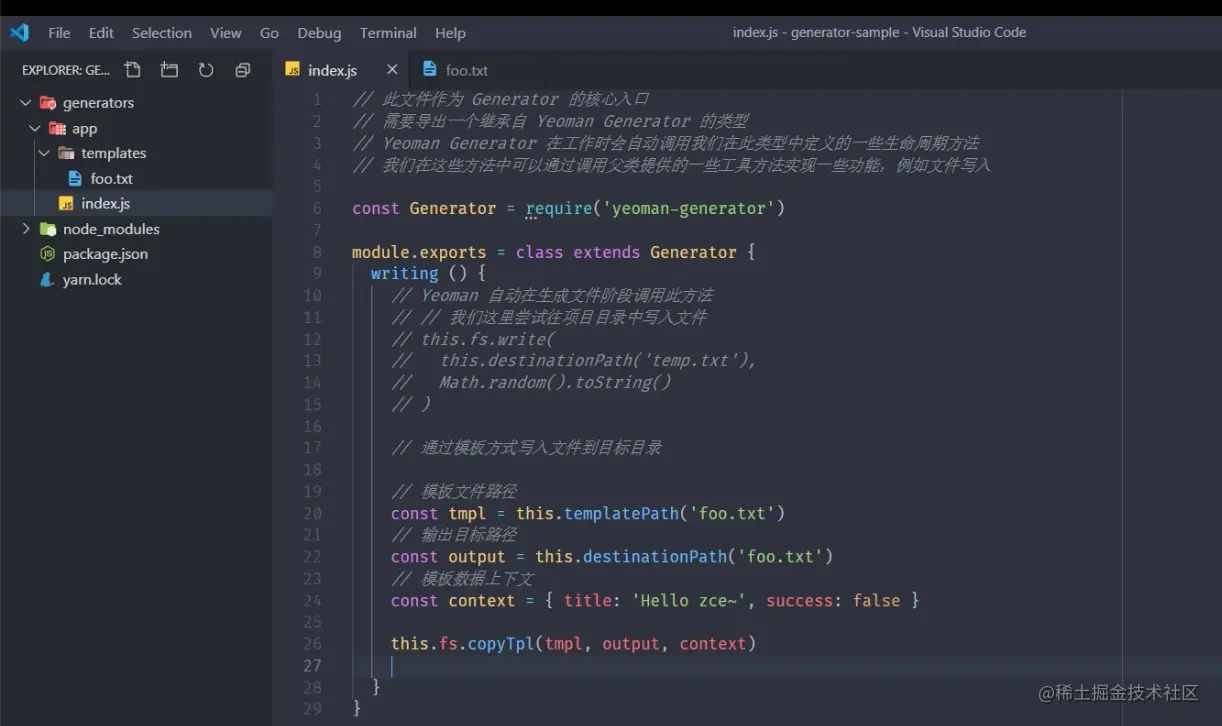 8、Vue Generator Case study
1、 Create a new Generator Catalog :mkdir generator-vue
2、yarn init , initialization package.json
3、 install Yeoman Dependence , yarn add yeoman-enerator
4、 newly build Generator Main entry file for : generator->app->index.js, stay index.js Export a relay Yeoman Generator The type of ;
9、 How scaffolding works
Scaffolding tools are a CLI application . It is basically a command line interaction after starting the scaffold , According to the interaction results, combined with the template file, a basic project structure is formed .
1、 Develop a small CLI
mkdir sample-scaffolding
cd sample-scaffolding
yarn init --yes
2、 open package.json file , Add one bin Field .
 "name": "sample-scaffolding",
"version": "1.0.0",
"main": "index.js",
"bin": "cli.js",
"license": "MIT"
}


 Copy code 
3、 And then create this cli.js file
#!/usr/bin/env node
// Node CLI The application entry file must have such a header
// If it is Linux perhaps macOS The system also learns to modify the read and write permissions of this file
// Specifically through chmod 755 cli.js Implement modification
console.log('cli working')


 Copy code 
4、 On the command line through yarn link This module link To global
5、 Then run the command line :sample-scaffolding
6、 Use inquirer Do command line interaction , install yarn add inquirer
7、 The working process of scaffold cli.js
//1、 Ask users questions through command line interaction
//2、 Generate a file based on the result of the user's response
const inquirer = require('inquirer');
inquirer.prompt([
{
type:'input',
name:'name',
message:'Project name'
}
]).then(answer=>{
console.log(answer);
})


 Copy code 
8、 Execute on the command line sample-scaffolding, If the result can be returned, it indicates that the execution is successful
9、 Create a new template directory templates/index.html
<!DOCTYPE html>
<html lang="en">
<head>
<meta charset="UTF-8">
<meta http-equiv="X-UA-Compatible" content="IE=edge">
<meta name="viewport" content="width=device-width, initial-scale=1.0">
<title>
<%= name %>
</title>
</head>
<body>
</body>
</html>


 Copy code 
10、 newly build templates/style.css( The second template )
11、 You need to render files through the template engine , So install the template engine
yarn add ejs


 Copy code 
12、 Create a new file directory demo
13、 Execute... Under the command line of the new file directory sample-scaffolding, Will be in demo Directory to generate template files, rendered files
14、 Simple case complete code :
#!/usr/bin/env node
// Node CLI The application entry file must have such a header
// If it is Linux perhaps macOS The system also learns to modify the read and write permissions of this file
// Specifically through chmod 755 cli.js Implement modification
// console.log('cli working')
// The working process of scaffold :
// 1. Ask users questions through command line interaction
// 2. Generate a file based on the result of the user's response
// Use inquirer stay node Command line interaction with users
// yarn add inquirer
const path = require('path')
const fs = require('fs')
const inquirer = require("inquirer")
const ejs = require("ejs")
inquirer.prompt([
{
type: 'input',
name: 'name',
message: 'Project Name?'
}
]).then(answers => {
// console.log(answers)
// Generate files according to the user's answer results and templates
// Directory of templates
const tmpDir = path.join(__dirname, 'templates')
// Target directory
const destDir = process.cwd()
// console.log(process.cwd()) // D:\workPlatform\demos\sample-scaffolding
// Convert all the files in the template to the target directory
fs.readdir(tmpDir, (err, files) => {
if(err) throw err
files.forEach(file => {
// Render these files through the template engine
ejs.renderFile(path.join(tmpDir, file), answers, (err, result) => {
if(err) throw err
// console.log(result)
// Write the result to the destination file path
fs.writeFileSync(path.join(destDir, file), result)
})
})
})
})


 Copy code 
Automated build
1、 Introduction to automation
automation : Do the work by machine instead of by hand
structure : transformation , Convert one Dongxu into another
Automated construction in the development industry : Automatically convert the source code written in the development stage into the code or program that can be run in the generation stage , This transformation process is generally called automated build workflow ;
Automated build workflow functions : Problems caused by being out of compatibility with the operating environment ; Use efficient syntax during the development phase 、 Norms and standards ;
Application scenarios :

When developing a web page :ECMAScirpt Next Improve coding efficiency and quality
Sass: enhance CSS The programmability of
template engine : abstract HTML Duplicate code in

The role of automated build tools : Build transformations that are not supported characteristic ;
2、 Automate build NPM Script --- Build simple projects
install yarn add browser-sync --dev
stay package.json in ,
"scripts": {
"preserver": "yarn build",// Automatically build before startup Sass file
// Monitor the changes of files under the project , Automatically sync to browser
"serve": "browser-sync --files \"css/*.css\"",
"start":"run-p build serve" // At the same time build and serve
}


 Copy code 
Start project : yarn serve
install yarn add npm-run-all --dev
3、 Common automated build tools
Grunt: The plug-in ecosystem is perfect , But because the construction process is based on temporary files , The desired build speed is slow ; For example, use SACSS File construction , Compile first , Then add the prefix of free attribute , Finally, compress the code ; In the process ,grunt There are disk read and write operations in each step , such as : After compilation , Write the results to a temporary file , Then read the temporary file in a plug-in for the next step , thus , The more links you deal with , The more times you deal with it ; For mega projects , The more project files , The slower the build will be
Gulp: Common build tools , It's a good solution grunt The problem of slow construction speed , Because it is implemented based on memory , That is to say , The steps of processing files are completed in memory , Compared with the disk, the reading and writing speed is naturally much faster ; Multiple tasks are supported by default , The efficiency is naturally high , The way of use is more intuitive and easy to understand , The most current front-end building system ;
FIS: Recommended by Baidu front end ;FIS Like a bundle , Inherit the typical requirements of the project internally , such as : Processing resource loading 、 Modular development 、 performance optimization
Suitable for beginners FIS, Flexible requirements, suitable for gulp、grunt
Be careful : webpack: Strictly speaking , It's a packaging tool
4、grunt Basic use of
install grunt : yarn add grunt
Add... Under the project root directory : gruntfile.js file
//grunt Entrance file
// Used to determine some required results grunt Automated tasks
// You need to export a function
// This function receives a grunt Shape parameter , Internal provides some information that can be used when creating tasks API
moudle.exports = grunt=> {
grunt.registerTask('foo', () => {
})
grunt.registerTask('bar',' Task description ', () => {
})
// Perform the default task
grunt.registerTask('default',['foo','bad','far'])
}


 Copy code 
5、grunt The marking task for failed
An error occurred in the logic of the build task , You can mark tasks ;
Use return false Mark tasks
Asynchronous tasks cannot be used return false return , Specify an argument
moudle.exports = grunt=> {
grunt.registerTask('bad', () => {
return false
})
}


 Copy code 
Enforce tasks : yarn grunt default -- force
5、grunt Configuration options API:initConfig
moudle.exports = grunt=> {
grunt.initConfig({
foo: 'bar',
far: {
bar: 123
}
})
grunt.registerTask('foo', () => {
console.log(grunt.config('foo'))
console.log(grunt.config('far.bar'))
})
}


 Copy code 
6、grunt Of Multi objective mission ( The subtasks )
Use registerMultiTask Definition
grunt.initConfig({
build: {
css: '1'
js: '2'
}
})
moudle.exports = grunt=> {
// Multi-objective configuration
grunt.registerMultiTask('build', function() {
console.log('build task')
})
}


 Copy code 
7、grunt Of The plug-in USES
8、gulp Use
Core features : Efficient 、 Easy to use
Create an empty folder for the project
initialization package.json yarn init --yes
install gulp:yarn add gulp --dev
see node-modules/bin/gulp
Create a new one gulpfile.js
exports.foo = done => {
console.log('foo task working')
done() // Mark the completion of the task
}


 Copy code 
9、gulp Combined tasks of